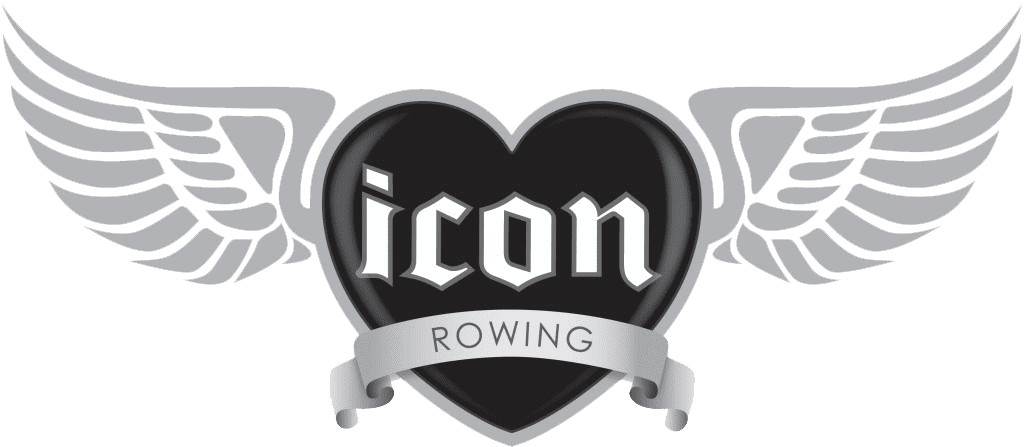 Welcome to Icon Rowing – the home of the Icon Ocean Rowing Seat. A rowing seat designed by an ocean rower with first hand experience.
Designed for comfort, designed for the ocean.
Once you have rowed an ocean on one, there will be no going back to a standard seat.
Also available exclusively from Icon Rowing is the Icon Lifeline – a safetly line designed to attach the rower to the boat which unfurls slowly without risk of entanglement.
Icon Rowing is part of the Icon brand founded by Andrew Morris. To date the Icon brand is a range of high end bespoke products all created around Andrew's passions outside of his normal hectic business life.
With 25 years experience in the freight industry, owning a successful International shipping group has never kept the entrepreneur in Andrew occupied enough. With a love of motor racing and rowing, he has brought together his design skills, ambition and drive to create what now is the Icon brand.
Icon Rowing came about from Andrew rowing the Atlantic in 2005 and hence experiencing first hand the misery and discomfort that ocean rowers have to go through day in day out. Therefore after the successful row he has gone on to research and produce the Icon Ocean Rowing Seat.
With his love of motor sports, his sporting hero being the late Barry Sheene and too much time sat on the ocean with a sore bottom, Andrew decided that he should design and build a motorcycle in tribute to Barry. This dream became reality and the Icon Sheene was born. This is one of the world's most expensive and desired motorcycles. The Icon Sheene has been a collaboration of the entire Barry Sheene family and all the engineers, designers and associated who were with Barry during his racing career when he became the F1 Double World Motorcycle Champion.
Being keen motorsport fans, Icon F1 also owns and races a Lotus F1 car. Along with a fleet of rare exotic cars this is offered for hire through Icon F1. Not only does Icon have rare and exotic cars for hire, there is also the Icon Experiences's ex Jenson Button million dollar motorhome for hire. Available with driver and full 24hr support team and full concierge service also.
With the designing of the Icon Motorcycle, Andrew really got involved in the ergonomics and details of design, whilst the Icon Sheene is a top end exquisite piece of art, it's the finest attention to detail for those that demand the best and where a compromise for speed, style and quality are not compromised at all. Not satisfied with just designing a motorbike, currently in production is the Icon 9. A Porsche with a whole lot more . . .
As with the entire Icon brand, Andrew strives to make the best even better. Whether it's designing an ocean rowing seat that gives you a comfy bottom or an ultimate Porsche, it will become an Icon.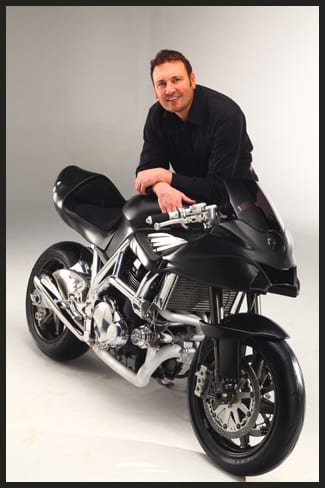 Technical Specification
The seats can be either used as the solid base to mount wheels to, or can be attached onto the current plastic/composite /wooden base platform by means of velcro.
Rowers will need to adjust their rowing position by adjusting rowlocks and oar hand position to accommodate the extra height of the Icon seat.
The base of the seat comprises of a solid timber base, allowing safe and secure fixing to your rowing rollers and support unit.
We have increased the length of a standard rowing seat base to provide more support under the thighs, this has been designed to reduce the point loading onto the bottom, allowing the thighs/hamstrings to offer some additional weight bearing support.
The rear of the seat has built in raised sections to help the rower locate the optimum seating position. This also provides extra grip and stability in difficult rowing conditions.
The construction of the rowing seat includes 3 varieties of Icon developed cellular contour foam, a layer of rebound rubber and 2 special types of robust fabric stiffeners, plus other unique items within the design.
The leather outer covering is a Grade A,  Icon Rowing selected premium leather hide, which is fire retardant and double thickness. This will provide a more durable outer. In the unlikely event if one leather skin fails, then we have a second to fall back on. The leather also is double skinned to hold the inner materials securely in place.
The stitching is all in marine quality waterproof nylon, triple stitched with internal waterproof webbing and stainless steel staples on the underside.
The Icon Label on the exterior is embroidered on reflective tape which helps you locate the seat at night time.
Each Icon Rowing seat is completely hand made to order and colours may vary.
The total weight of the complete Icon rowing seat is approximately 1100 grams (1.1 kilos).
ORDER YOURS NOW!
The cost of the Icon Rowing seat is £300 plus VAT where applicable. Packing and delivery is charged at £15.00 plus VAT for UK mainland and international shipping prices are available on request.
Discounts are available for multiple orders.
We can also accepts cheques made payable to Icon F1 Ltd:
Icon F1 Limited
Fosse Way
Newark
Nottinghamshire NG24 4SP
UK
We can also take payments over the phone:  +44(0)844 808 2568
Icon Rowing Seat cover
We have now developed a waterproof, breathable seat cover for the Icon Rowing Seat. Designed to protect the leather during the inevitable storms, they are also ideal for those hygiene conscious rowers sharing a rowing position. The covers are made of an anti-tear waterproof breathable material and incorporate a soft microfibre seat pad area perfect for direct contact with the skin. These covers are priced at £34.95 plus VAT. Colours may vary to what is shown in the photo.
Icon Lifeline
The team at Icon have now designed and manufactured the Icon Lifeline. This is a safety line attaching the rower to their boat. A must for the solo rower in the unfortunate event of a capsize. The Icon Lifeline is specially designed that it will unfurl as needed with no chance of the safety line getting tangled. Please contact us for further details. 
Icon Rowing Aftercare Service
Your Icon Rowing seat has been designed to withstand the ocean's gruelling elements, but we do understand that nothing lasts forever. That's why we offer an aftercare service for your Icon Ocean Rowing seat.
The ocean will batter both your body and your equipment. Therefore once you have finished your row, send your seat back to Icon Rowing, and we can refurbish it where needed, and upgrade your seat to include any latest manufacturing designs and improvements that our design team may have effected since your initial purchase.
Prices for this service will vary depending on your requirements, but contact us for further details.
Shipping your boat enquiries
Have you arranged your shipping company for your boat yet? We have excellent connections with freight and packing companies.
We can liaise with our packing companies to design and manufacture cradles as necessary ensuring safe transportation. We use standard shipping containers which are fully approved by Shipping Lines. The cradles also provide optimum stowage of pairs-boats within the container (2-in-1) resulting in reduced transportation costs.
+44 (0)1636 610666 or email isabel.veloso@tradefreight.co.uk 
Make sure you mention 'Icon Rowing' to ensure you get the best deal.
'Icon seats are the best thing that has happened to ocean rowing since oars, boats and the will to row oceans. Best money we ever spent'
Leven Brown, Ocean Row Events
Technical Specification
Following the success of the seats, the team at Icon have designed a safety line for rowers. We realised that there was nothing currently available specifically for Ocean Rowers, meaning surfboard leashes or ropes were used.
A standard surfboard leash will only have a 10ft length. In the event of a capsize on rough seas,10ft is just not long enough. This could possibly result in a broken  limb as your projection from the boat is suddenly halted when the leash has run out of length. Even on a calmer sea you may find that if you are capsized, a small leash can get itself tangled around equipment on the boat leaving the rower trapped under water.
The Icon Lifeline is different to a normal leash as it gives 40m (approx 130ft) of floating line which is designed to unfurl gradually as necessary. This will then let you have a natural landing into the water if on a rough sea and will not get tangled as the line unfurls gradually. You can then swim back to you boat, or allows your rowing partner to pull you back in. Often in rough seas you can lose sight of your boat too as the waves can be that high hiding sight of your boat. The Icon lifeline will guide you back to your boat.
The Lifeline consists of a capsule containing the 40m floating safety line. This is contained in a secure holder which is mounted onto your boat. The line is then attached to the leash which will attach to the rower around their ankle. This leash will not restrict the movement of the rower on the slide. 
The Icon Lifeline has been designed by Ocean Rowers and only available through Icon Rowing. Many thanks to Mick Dawson for his support with the Icon Lifeline!
The lifeline comes in 2 options:-
Standard – bottom opening holder for capsule replacement. (As pictured with Mick Dawson)
Professional – Smaller and lighter top opening holder for easier and quicker capsule replacement. Also comes with a spare capsule. (As
pictured fitted to one of the boats for the start of the Atlantic Challenge 2013 race. 
ORDER YOURS NOW!
Contact us for further details and pricing.
Icon F1 Limited
Fosse Way
Newark
Nottinghamshire NG24 4SP
UK
+44(0)844 870 0032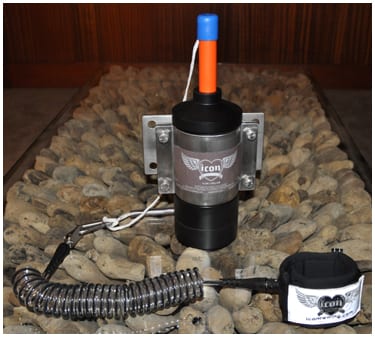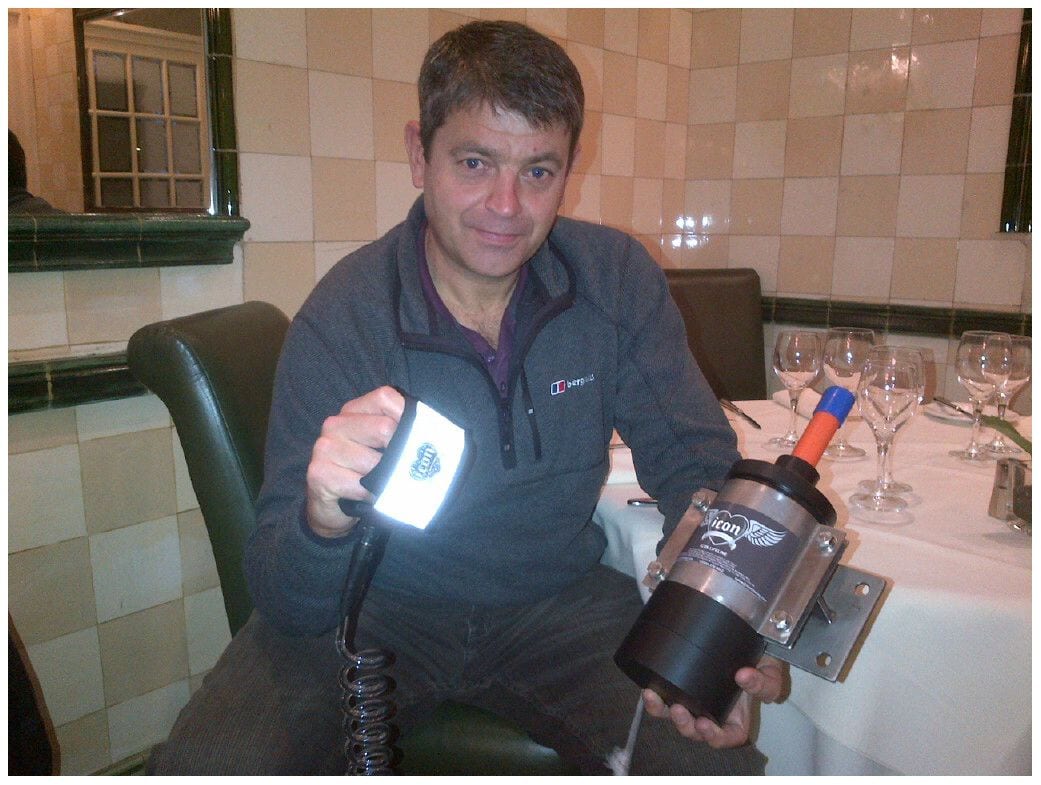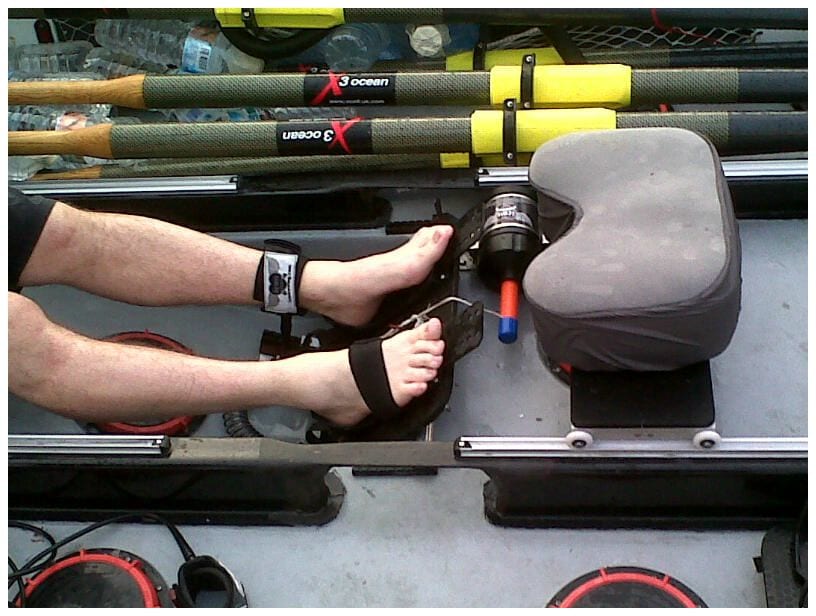 The Problem – The Achilles heel of Ocean Rowing- A sore bottom!
Anyone who has rowed an Ocean and for those who are planning to, will know that the rowing seat really is the Achilles heel of Ocean Rowing. The thought of sitting several hours on a deteriorating bottom is really not good.
With Ocean rowing being as much about mental determination as physicality, its the dread of once again subjecting your already bruised bottom onto the same seat that will just add to your discomfort as you progress on your row. Unfortunately the more fat you burn off, the glutes and buttocks reduce in size meaning that the ischium (skeletal bottom bone) protrudes more into the rowing seat, causing ever increasing levels of pain and discomfort.
James Cracknell features his contaminated bottom in his and Ben Fogles `Through Hell and High water` BBC documentary. It was no joke for this ultra tough double Olympic Champion James, when the skin on his bottom had some very nasty infections which ended up with him taking lots of the strongest medication possible to get him to the end. He only just made it through being bloody minded and dosed up. Another few days and who knows if they would have completed the Atlantic Ocean crossing.
To many people, this all seems a laughing matter, but we can assure any reader that if you find yourself in the same position, then you will do anything to try to avoid the infections, pressure loadings and pain that the normal rowing seat will give.
Icon and Ocean Rowing
Andrew Morris, founder of Icon Rowing, rowed the Atlantic East-West crossing with Mick Dawson in 2005-06 in what is now known as the famous capsize year. The weather was so rough that even World legendary rower Mick thought the seas were harder than the Pacific Ocean!
When Andrew and rower Roz Savage were due to row in 2012 the West-East Atlantic crossing ( www.olympicatlanticrow.com  ), Andrew thought about the previous crossing and how the discomfort and pain from the seat really was one of the low points in otherwise a fantastic life time experience.
The idea for an improved and top end seat came from the Olympic Atlantic Row (O.A.R.). However as Ocean rowing is still in the blood of Andrew, he carried on designing and improving the rowing seat and he personally tested it when he rowed Bojanlges across the entire width of the UK and with input from his Ocean rowing friend Chris Martin, also of the Association of Ocean Rowers, several prototypes were produced until finally ending up with the` Icon Rowing Seat'.
There have been dozens of attempts to improve the comfort and having experimented with many of them, Icon Rowing have purposefully selected products that go into the rowing seat with good reason.
The Solution – The Icon Ocean Rowing Seat
The Icon rowing seat attaches to your normal rowing slide and is a complete seat made up of the finest materials to withstand an Ocean. Each one is hand made and they take about two days to produce and whilst they look simple from the outside, it the thought that has gone on the inside that has really taken the time and research.
The seat has also been developed to ensure that you don't lose your stability whilst rowing. What we have developed is a multi layered cellular contour foam that will allow you to row `connected` to your seat as you would on a conventional seat and you will not lose the grip you need to remain seated despite having the cushioning underneath you.
Depending on the row , most rowers prefer to row naked because its the skin that is the best at handling the elements, this is why the leather seat we produce is just like a leather horse riding saddle, except softer but it has a lot of the same benefits that only leather can bring over any man made material.
The selected grade A leather, as well as being fire retardant is also wipe clean from the daily salt and can be nourished and treated with waterproof dubbing as part of your maintenance programme. The beauty about the leather is that cross contamination which often occurs will not happen as long as you use an anti- bacterial lotion on the seats surface. The leather just like your own skin is able to be cleaned then able to hold a fungicidal or anti- bacterial lotion in the leather's grain.
The mixture of leather and cellular contour foams will allow your unique body shape to depress down into the area that will give you minimum load bearing thus reducing the pressure points. Then when you get off the seat, the foams will rise up again to retake the seats maximum cushioning position, so if a different weight and shaped rower was to take to the oars, then the seat will adjust to that rower's unique shape.
We don't use any form of gels or air bubble material. Simple reason is that they simply don't work. Icon have tested a variety of materials and they cannot take the hour after hour pounding. The heat also damages the gel and air pockets and eventually they become hard and disfigured no matter how we tried to ensure they remain in position. Our design team at Icon Rowing are constantly upgrading the Icon seat thanks to input from the ocean rowers using them. Therefore as each seat is made to order, you will always receive the latest version.
We have now developed a waterproof, breathable seat cover for the Icon Rowing Seat. Designed to protect the leather during the inevitable storms, they are also ideal for those hygiene conscious rowers sharing a rowing position. The covers are made of a waterproof breathable material which will not rip and incorporate a soft microfibre seat pad area perfect for direct contact with the skin.